Posted on
Maison Boucheron 2016 Kaa Serpent Bracelet (photo via Vogue.com)
One of the things I love about selling vintage/antique jewelry is watching styles come, go, and come back again refreshed in some way to make them current and trendy.
It is 1858, Paris, France. Frédéric Boucheron opens his first boutique in the Galerie de Valois under the arcades of the Palais Royal which at that time was the center of the Parisian luxury trade. For more than 150 years, Boucheron has jeweled kings, queens, dukes and princesses (
view their amazing photographic timeline
including their 'most extraordinary order' for the Maharadjah De Patiala in 1928 consisting of 7,571 diamonds and 1, 432 emeralds). The serpent bracelet shown above is their 2016 Paris fashion week preview of their latest rendition of 'Kaa' - the namesake of the snake in Maison Boucheron's audacious menagerie.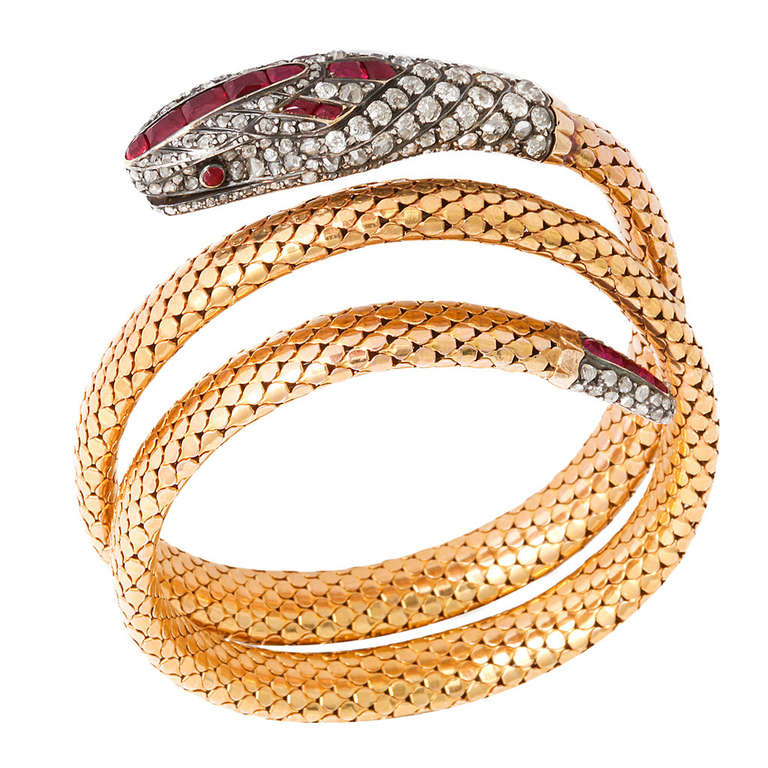 Victorian Era Diamond and Ruby Snake Bracelet (photo via 

A La Vieille Russie)
According to Natalie at Jewels Du Jour, 'The Victorian era incited the proliferation of snake jewelry after Prince Albert proposed to Queen Victoria with the very first engagement ring, which was in the image of a snake with an emerald-set head.  For Victoria, the snake was an emblem of eternal love, making her betrothal ring the ultimate token of happily-ever-after.  Peaking in the 1840s, the snake represented wisdom and eternity during this period and was a ubiquitous motif on rings, bracelets, brooches and necklaces.' (
read her amazing article
full of vintage/antique serpent jewelry references)
"Every great story seems to begin with a snake." - Nicolas Cage