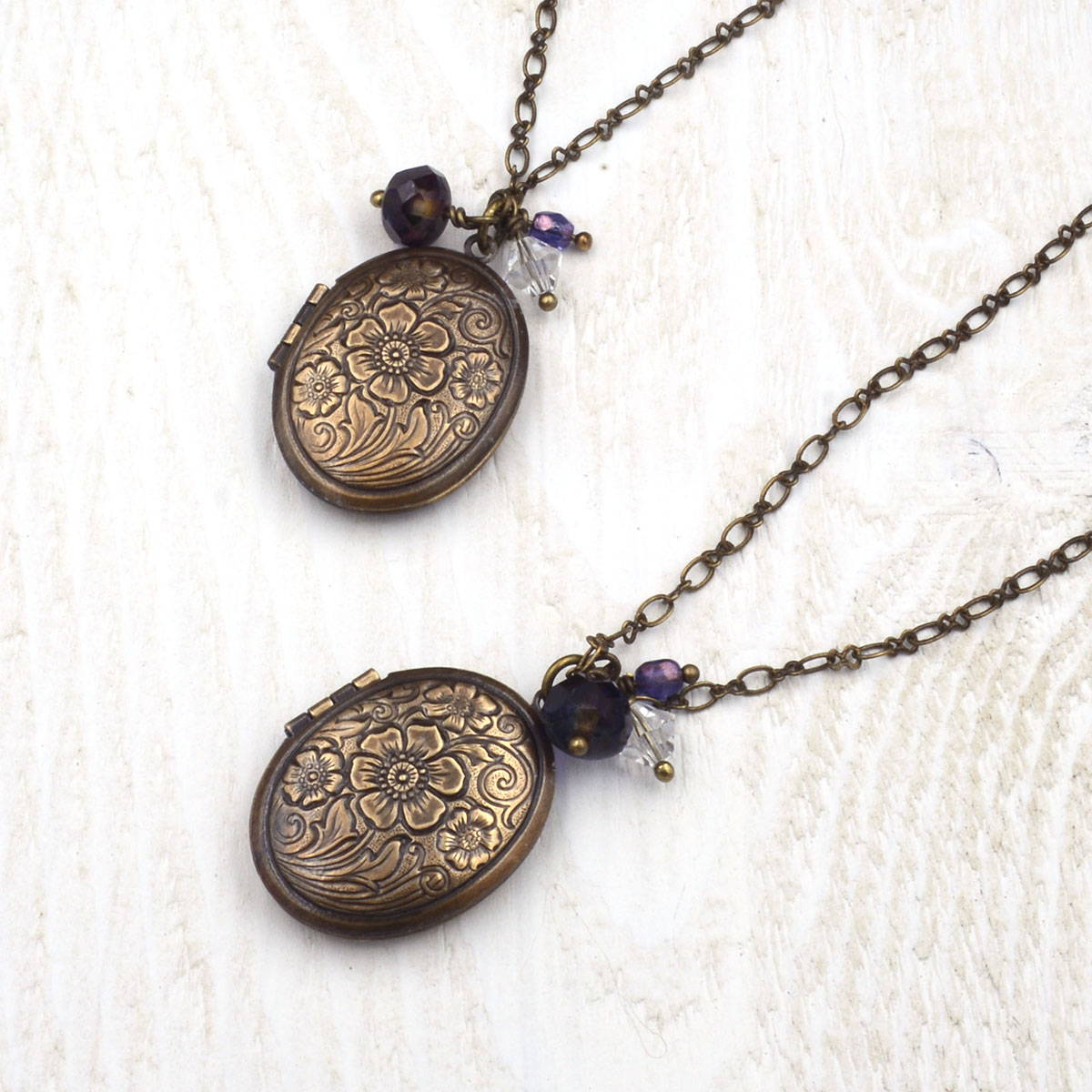 It was a pleasure working with you in the Beaded Jewelry 101 Class. I hope you had as much fun creating your first pieces of beaded jewelry as I did teaching you how to do it. I put together this list of resources and some 'jewelry basics' videos to help you remember some of the things we learned in class. If you have any questions about the techniques we covered in class, or just want to say hi, I'd love to hear from you! You can reach me via email here.
These are a couple of my favorite beading supply businesses. I love how they support new artists with tools, training, and kits that make it easier to get started.
B'Sue Boutiques (bsueboutiques.com): Brenda Sue Lansdowne is located in East Palestine, OH. She's so much fun and has the very best quality vintage style stampings. She works with some wonderful platers and her components will stand the test of time. B'Sue has a fantastic Facebook creative group I highly recommend. And, if you decide you love making jewelry so much to make a business out of it, her online Build a Line Challenge class (opens once a year) is an incredible opportunity to learn how to build a cohesive line of jewerly as a foundation for your business. Brenda has been my mentor for a number of years and got me started making jewelry. I can't thank her enough for her kindness and inspiration!
Rings and Things (rings-things.com): I love Rings and Things for the variety of supplies they have including Swarovski crystals, Tierracast findings and beautiful gemstone beads. They are located in Spokane, WA, and are very supportive of new jewelry makers. If you are looking for tools, this is a great place to find just about everything you need for your beading bench! Be sure to join their mailing list for great tips and kits to help you grow your skills.
For your reference, the tools we used in class were:
- chain nose pliers
- flat nose pliers
- round nose pliers
- flush cutters
I like to use bent nose pliers to help with tight spots when wrapping headpin wire. You'll see this tool in the 'Add a Bead to a Headpin' video below.
Here is a list of terms we covered in class, too:
- Jump rings are used to connect components together. We used two sizes in class made with 18 gauge wire for strength. The 5mm jump rings were used for connecting the clasp and making the end loop on the necklace.
- Headpins come in different styles. We used 2" long ball headpins made with 20 gauge wire. Another common kind of headpin has a flat end.
- There are many crystal suppliers. Buying Czechoslovakian (or Czech) crystal is a better investment because of the rich history of glass making in this country. Swarovski is a well known brand.
- Chain is one of my favorite parts of making jewelry. It is useful for necklaces like the one we made today, but can also be used in other ways such as making fringes, adding loops for interest on a swag necklace or even to surround a jewel as a cabochon element. The chain we used in class is called peanut chain. Another pretty vintage-style chain worth taking a look at is paperclip chain. We saw an example of this on the Art Deco necklace.
These quick videos cover the basics of what we learned in class. I recorded them so you could keep me in your back pocket in case you needed to remember something specific. I hope you have fun making jewelry and can't wait to see what else you make! I'm on social media as @10gables and love to be tagged.
---